NERD's directorial tandem, Paloma of Lucas Borrás and Alicja Jasina, launched their stylishly directed hand drawn (frame by frame) 2D spot for worldwide mattress company Casper just this week. After endless long hours and sleepless nights (pardon the pun), the close collaboration with creative agency Red Antler to produce three individual spots for both online and TV was ready finally to be released to the public. Ensuring to carefully showcase Casper's comfort and reliability, Paloma used smooth, fluid transitions combined with captivating storytelling to send us through the 100-night trial that is offered to all purchasers. [embed]https://vimeo.com/300502095[/embed] We were intrigued to learn more about the creative process and what goes into producing such an intricate formation of handiwork when working not solely, but together as a duo.
What ideas came to mind when you first saw the brief?
P> We'd always been in love with the creativity involved in Casper since the very beginning when the campaigns were launched.
In this case we loved the references that we were given and the overall approach - a clean, simple yet playful illustration style that we enjoy so much. We knew straight away that we'd flourish working in this realm. 
The script that the agency provided was very well-written. It visually inspired us in so many ways. There was a big willingness for collaboration from their side which was something that we really loved. 
From the moment we read about the pile of animals on top of kid's bed, we had an image in our mind. 
Somehow we felt this opportunity was a perfect match for us. We put all our love into the pitch and we guess the agency saw that.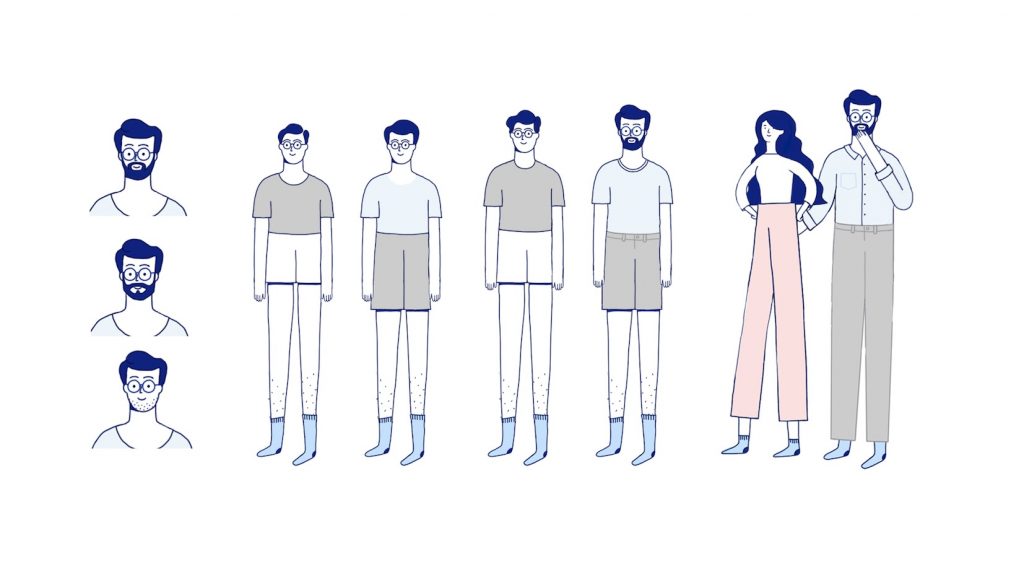 What was your favourite scene to create? Alicja> I really enjoyed working on the transition before 'night 99'. I remember, we discussed it with Lucas a lot, he had an idea and I really struggled to visualize it and kept pushing him to explain more what he had in mind. I asked him to send over some thumbnails and still didn't get it 100%. I felt it was one of those challenging scenes that I shouldn't give up on and then once animating, it was such a blast to see it come to life and work so nicely. 
That's one of the best parts when collaborating, when these nice opportunities to grow pop up. 
What software do you use to bring your ideas to life and why? P> We used Photoshop, Animate(Flash) and After Effects. Flash is good for frame-to-frame animation; it's a standard program that everybody knows. Alicja prefers Toon Boom, Lucas doesn't work with it. Since it's all about collaboration and creating an easy workflow we decided to go with the initial route.
Lucas> I personally love Astropad and the ability to create on an iPad and avoid cintiqs to draw or work in general. I could work in a cafe, for example, since the space they take up is so much smaller. For me, switching to this workflow for the first time was a nice part of this project.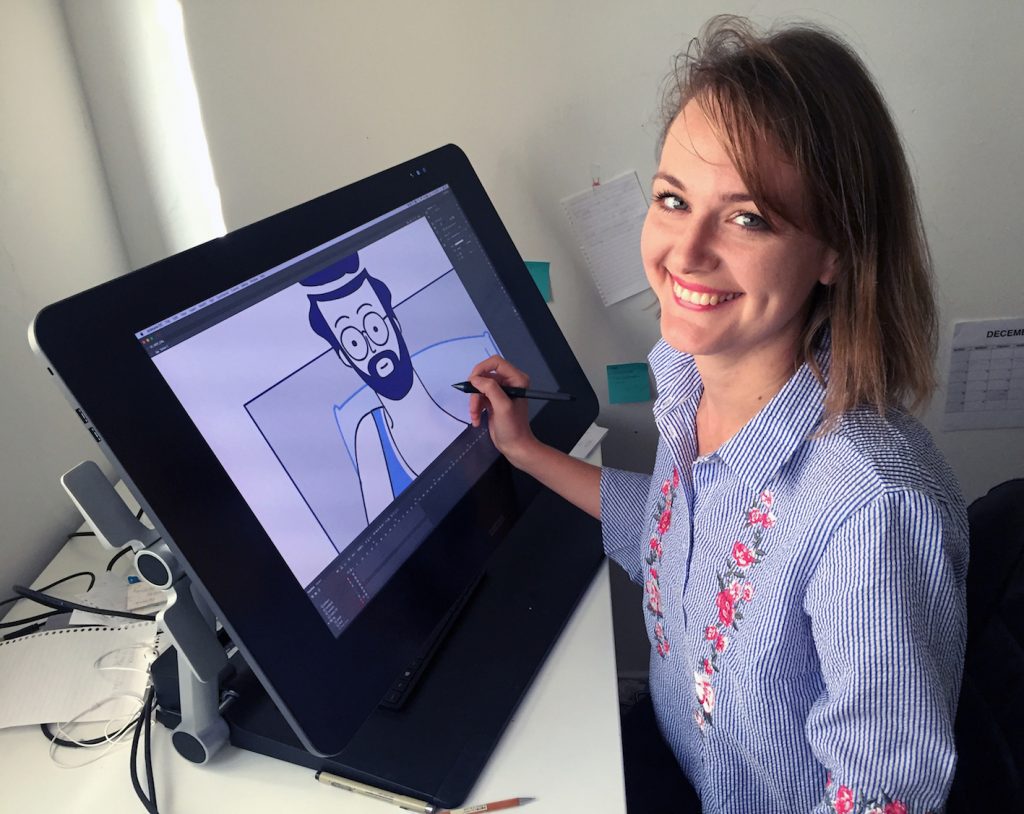 As your Paloma duo, how do you decide who will be involved in which part of the job? How do you work together and combine your ideas? P> It's always a really fluid, organic process. It doesn't have a defined pattern.
This time, Alicja was responsible for character design while Lucas did more work on environments. The storyboards were a collaborative part. We had just a few days to develop them so this was a job for the two of us. We were deciding and experimenting with the story while advancing. Animation was well and truly open for both of us to work on it while Lucas took care of the compositing.
What techniques do you use to bring your thoughts together? Alicja> It's a lot about trust and respect. For example, Lucas knows he can add a frown or do some minor changes to my lady's design and I wouldn't mind it and the same other way round - I could change the timing slightly in the animatic he did or change a little element in a piece of furniture he designed. At the same time, when it comes to more significant changes, it's important to discuss it and to respect what the other person has worked on so far. I like the term "killing the babies", that's used for editing and not being precious about the ideas at the initial stage. Referring to that, you have to definitely be more careful and considerate with other people's babies.
Lucas> I think everyone brings to the table the best they have, but our roles are not so defined. Depending on the job we're working on, they change. 
[metaslider id="503"]
What was the most challenging part about the Casper project? Alicja> At the beginning, I struggled a little with the character of the dad. I enjoy drawing handsome guys haha, so the first designs reflected this perfectly-shaped, god-like athlete man. When the agency got back to us suggesting it should be a dad-type with some belly, I couldn't help but be a little disappointed. But then, I think we managed to smuggle some attractiveness into his character :)
I think overall it was a very smooth process and we are really happy with the finished piece. 
We felt lucky to have Nerd Productions and Milana with us. They are a really big support, always making bridges between us and the agency. 
NERD's founder Milana Karaica commented:
"It's been such an exciting project to lead and be a part of bringing it to life. The agency came to us with a really fun concept and collaborated with us closely to push those ideas further. The brand was a dream too, really trusting the process and allowing the whole team involved to do their best for these films.
All in all a real bunch of talented, collaborative, flexible humans doing what they love – the result is in the craft!"
Thanks Paloma!
Want to see more of Paloma? Click
here.
Want to work with Paloma or one of our other NERDs? Click
here.