Dance is the ultimate activity to let loose, forget about inhibitions, and boost physical health. International Dance Day is a global celebration of dance and we are celebrating NERD style!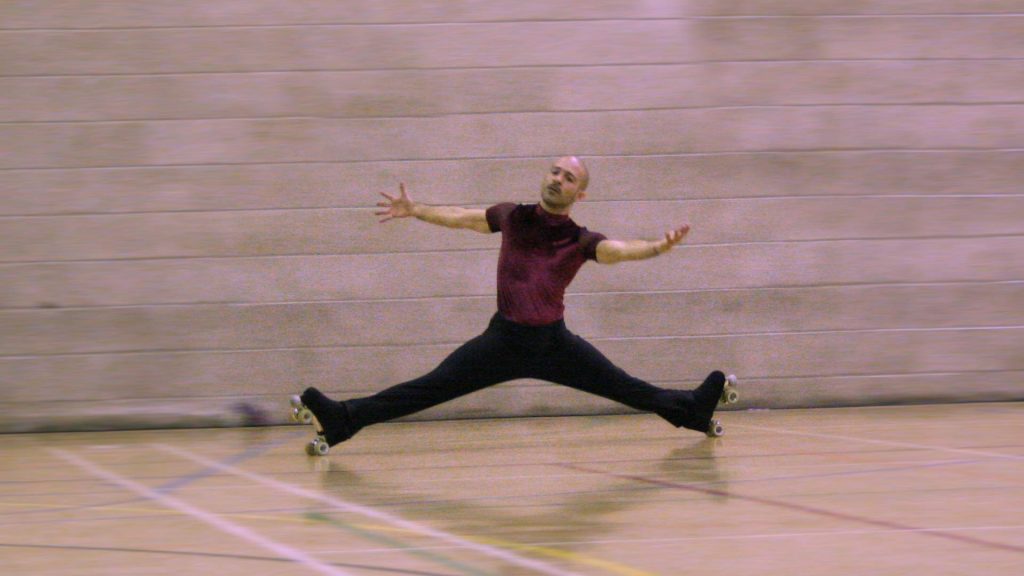 We have been chatting with the wonderful Shay Hamias about his brief career on wheels, using dance as an emotional language and his work for the Royal Opera House.
The twirling and wiggling started on wheels for you – can you talk us through your journey from entering international roller-skating championships to collaborating with Hofesh Schechter.
Gosh, it was such a long time ago! Growing up, a friend from my gymnastic class got me into a summer camp of skating, and at that camp, I fell in love with skating.  It is like flying and it was both, acrobatic and expressive!  I got to the skating world's championships, and even though I finished third ... to last, I still had so much love for it. 
 A little while after, I took dance classes - ballet and contemporary, and while the days you couldn't stop me from going to roller skating rinks are gone, I still love contemporary dance. In fact, it still inspires my work today! Moving to London I got to combine my passion for animation with dancing. They are both very similar, it's all about movement and timing.  I was looking for a dancer to film for my Masters and a friend introduced me to Hofesh Schechter. He had just arrived in London then, and just like that, we became friends. We have been collaborating since.  
For our latest collaboration, Hofesh wanted to replace certain musicians in his piece Political Mother, with animation, it was a very exciting project. From generating ideas to editing the work together, we have been truly collaborating at every stage of the creative process. At first, I felt like the screen visual projected were in the middle distance, and we allowed it to come forward or subdued it, depending on the narrative. Just before Political Mother went on tour, we rehearsed it in a theatre, it felt very emotional. To see my video projection design with dancers, lights, and costumes, it has been a dream come true!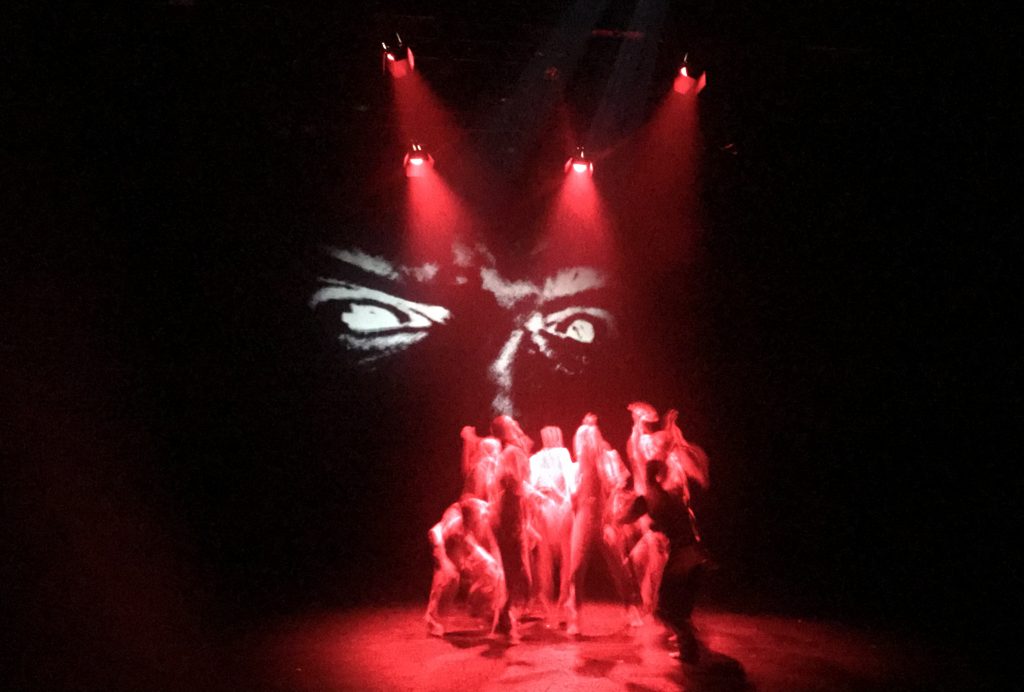 Where did you find the desire to explore emotional expression through dance and choreography?
Dance is like any language - it speaks emotions. The viewer is projecting their own emotions and everything is up to their interpretation. I love dancing and always had a strong connection to key moments & movements. I am expressing my creativity best in movements and visuals, less so with words. So, working on projects that combine both is always a treat.
Looking at some choreographers' work, they intend to create abstract moments, centred on energy, emotions, and breath taking scenes. Words don't matter as much, neither the intentions behind the choreography. Once a piece is made, it almost belongs to the audience. It is up to them to interpret it based on their experience and emotional story attached to it. I loved that after screening the work, each person had interpreted it differently, it's an amazing feeling to witness that your work has triggered different emotions in different individuals. This applies to my commercial work too. I love crafting visuals that allow the audience to make the film their own and emotionally connect with it on a personal level even though it may be just a 30-sec TVC.
Walk us through the process of creating your latest film for the Royal Opera House.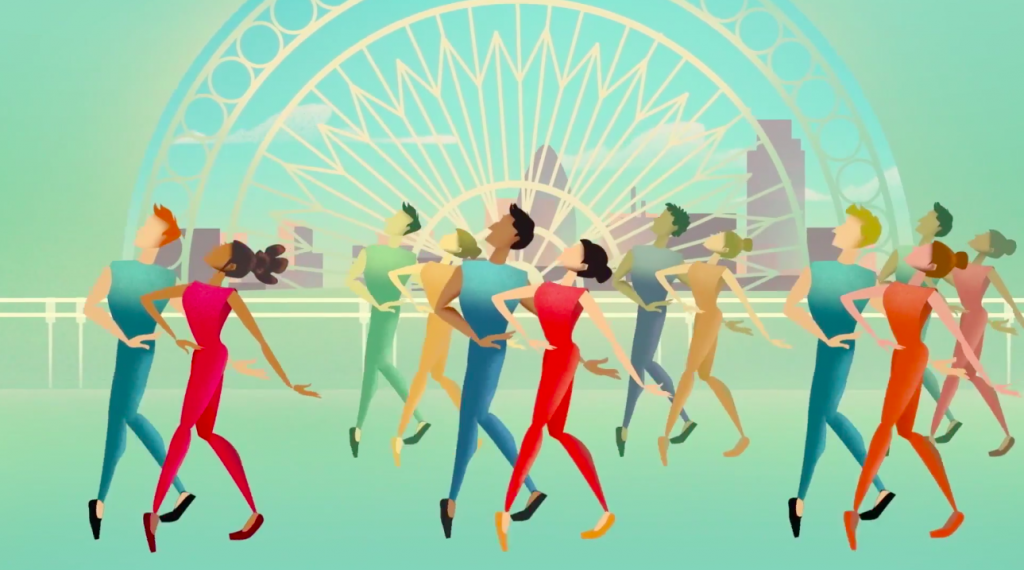 I was lucky that my film school's friend, who became an amazing Designer/Animation Director, Gemma Carrington, worked on Alice in Wonderland with the Royal Opera House in the past. She knew that I loved dancing and got me in touch with the team. The brief was to put into a visualisation story, the astonishing amount of shoe ballerinas goes through each year.
The designing stage was up to my own interpretation and I have chosen to create a mix of stylisation of reality in a vivid way, in the vector graphic style I like. Disney and '60s design were my inspiration for this project. However, the dance company was very particular about the moment. If you are into dancing, you know that it is all about the feet articulation, the overlapping flowing moment, and the specific of the ballet moves. I had to stay true to the original set designs and classical ballet choreography. Luckily, I knew all the moves and I didn't hesitate to perform them, even badly, in my living room to get a feel on how to animate them accurately.
You have brought to life many award-winning films, from Tim Burton's feature film titles, endless TVCs for many household brands and feel good projects raising awareness for charities… How do you balance your commercial projects and theatre work?
There's not much distinction between my commercial and creative work. They are both very creative just with different parameters. I bring myself to everything I do and find in each project, something that fascinates me. I recently animated on Prince of Egypt, the musical, it combined my love for ancient Egyptian aesthetics with the perfect musical music. And even though it was commercial theatre work, it was a lot of fun and very creative to work on. It was based on a strong narrative compared to working with Hofesh, that's part of the fun of working on a range of projects. it's a good challenge. It's the same with advertising or film work, I bring my creative thinking, storytelling, and aesthetics to the table.
Sometimes the script is more defined, but it's great to have boundaries, it allows me to focus on the visuals.
Alongside my commissioned work, I constantly learn new things. I have plunged into the vast world of 3D design and it excites me to think differently about different things. Whenever I do something new, it informs all my work and creativity just flows from there. Although I'm yet to discover how that will work with dance and I'm sure I'll find a way.
Click here to view Shay's portfolio.
Want to work with Shay Hamias or another NERD? Click here.