What better time than the present is there to start drawing? Whether you've kept a sketchbook, journal, scrapbook or a series of loose paper drawings, whether you've consistently doodled each day for years, sporadically added to the same (or several) different books never quite completing one, or failed to start one altogether… what follows is a list of helpful tips that I live by to spur my creativity and encourage me to keep a lively, over-used book of artistic brilliance.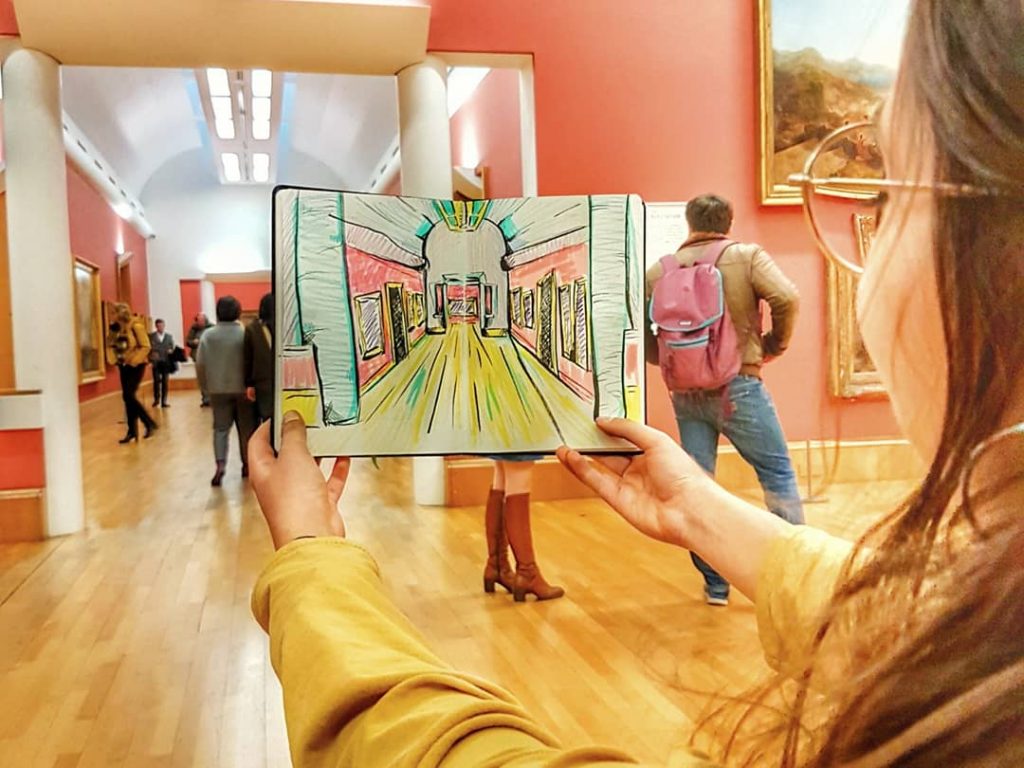 1 - Let it go!
We could break this down into a million sub-points, but it's such an important, self-accepting step. You will never have a "perfect sketchbook". Accept it! Sabotage a few pages to get you going on your path to the imperfect sketchbook. Fight that instinct to make it flawless. Let go of your fear, let go of the thought that every page has to be fine art, let go of the idea that you are making this in case someone else sees it. Who cares if it's not frame-worthy?
2 - Let it out!
Whatever it is, don't hold back. Whether it's some social commentary or something political that pissed you off, a comic about the one-sided conversation you had with your cat, or just filling empty pages with scribbles because you like the way your new pen feels leaving ink on paper. Explore your emotions reflecting through doodles, combine theories, bring to life the brainstorms that don't make sense.
Your sketchbook is for you to explore the creative capabilities of your mind, you are the only one building the barriers.
3 - Break the rules. I dare you.
How can you be a dare-devil with your sketchbook? Well...
Open up at random and let your fingertips loose instead of following your human inclination to open the next blank page in sequence. Challenge your own rules - the ones I had to hurdle over were ones I'd made myself. I've picked up a sketchbook so many times and subconsciously set myself rules, "this one's for drawing, that one's for notes'', and so the list continues until I have five sad, empty sketchbooks and the obstacle of my own confusion preventing me from just sitting down and doing a bloody sketch. Having separate books for categorising ideas may help some people, but unfortunately, I'm not one of them.
4 - Experiment!
Sketchbooks are your safe space, but your favourite drawing utensil isn't going to be mad if you try something new. Set aside your trusted HB and use some colour! Use new and different materials, prepare your pages with a paint wash so you're not being faced with a blank page. Tear out that page of the magazine in your dentist waiting room and stick glue it in there because you liked the pattern. Experiment with different drawing techniques, draw without looking, using your non-dominant hand, or continuous line!
5 - Draw every day!
Keep your sketchbook a portable size and take it with you everywhere. Swap out your routinely Instagram session on the bus with some observational drawing, or just let your imagination roam free through your pens and pencils. Draw frequently and draw without purpose, you'd be amazed by what you can create.
Here's to you and your relationship with your sketchbook. Drawing is supposed to be enjoyable, so find out what motivates you and celebrate it!
Want to see more from Elmaz? Click here.
Want to work with Elmaz? Click here.