We recently welcomed animation directing duo Paloma to the NERD roster. Made up of Alicja Jasina and Lucas Borrás, Paloma is the meeting of two diverse, creative minds. Alicja, a Polish-born 2d animation director and motion graphic designer, has a background in fine art and illustration. Lucas, who is already represented by NERD, artfully blends live action and animation in his mixed-media approach to storytelling. Together, Paloma thrive to create imaginative and visually poetic storytelling in a wide range of mediums, knowing no boundaries. With such an exciting and inclusive ethos behind their work, we couldn't wait to get to know Paloma a little more…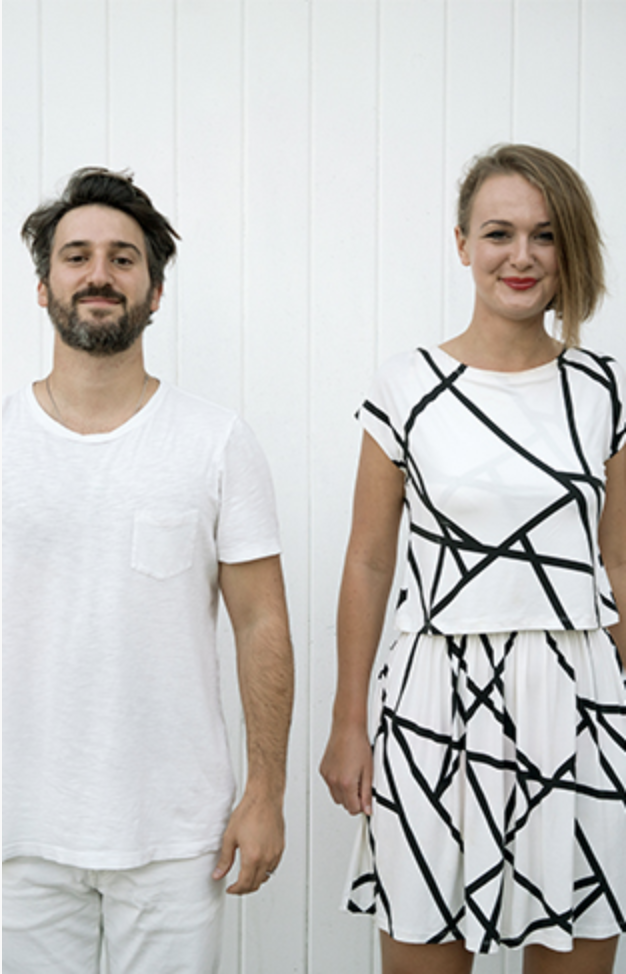 Describe yourselves in 3 words.
A+L: Creative, smart, minimalist.
How did you come to collaborate with each other?
A: I was googling my favourite animation directors and Lucas popped up. We went for coffee and we realised how much we had in common. We started working together the following week and it goes on until today!
Tell us a little more about your work.
A+L: We try to find a strong concept behind every project. We are stimulated by good design and that's what we strive for. We try not to overcomplicate things, always bring it down to the essential, both in terms of design and story. We like mixed media and almost every type of animation so we always aim to pick the technique that works best with a story we want to tell. We do our best to keep a fresh unique approach with every project. [embed]https://vimeo.com/190283187[/embed]
What's a typical day like for you?
A+L: Lucas wishes he could say that every morning at 8 am he goes out surfing - but he's not there yet. In the morning, Alicja cycles to Paloma Studio in LA from her place in Santa Monica through the Venice pier, trying to resist the beach vibe that every time urges her to stay there with all the happy, chill people. But she resists and gets to the studio. We discuss what the brief is for the day and how to organise ourselves the best we can to get stuff done. We always try to find the right balance between work and personal life. Lucas's second full-time job is his 2-year-old daughter, Sol. Alicja has a little less structure to her life so it's really the specific project (or whatever happens) that dictates her day.
What would be your perfect brief or dream client?
A+L: Lots of creative freedom and a big budget, so we can give wings to our imagination - a big exposure project. Not that easy to find. We believe animation can be an amazing way to communicate ideas. To create, sometimes you have to think about the equation of time/money, but those constraints are the ones we love in order to push ourselves. A+L: We love those Sony Bravia commercials where they do crazy things like explode paint across sky scrapers, or OK Go's music videos, where they get dropped out of the airplane and levitate. Similarly, with every project we try to create something that hasn't been done before, on bigger or smaller scales.
What has been the best project you've worked on?
L: Every project has something special about it. When you work with big crews you can meet new people and make new friends. At the same time, small clients can be great partners since communication can be faster. A: Working on a project called ONE for Airbnb was great. I loved being brought to their high-tech office in San Francisco. Maybe the new ideas and approaches were coming to me because of the vitamin boost from their freshly-pressed orange juice and the amazing food they provided every day; maybe it was the totally unique architecture of the open offices, each of which designed after a different place in the world; or maybe it was being surrounded by a completely new group of people (tech and design rather than animators). For whatever reason, it was a very stimulating experience! [embed]https://vimeo.com/243687727[/embed]
What product could you not live without?
L: Thermomix - a home cooking robot. Having a baby, it's a must. Oh, and a camera! A: Computer – we still have total admiration for animation pre-computer era, but computers make your life so much easier.
What product hasn't been invented yet that would make your lives/job easier/better?
A+L: A magic pencil that is connected to your mind and draws for you!
What do you listen to whilst working?
L: Electronic, jazz, classical music. A: I tend to go a little more mainstream than Lucas
What work has inspired you in 2017?
A: A graphic designer from LA called Geoff McFertridge. L: I recently discovered Maya Deren's work and I was thrilled. She is a film artist from the 40's. So, so advanced for her time and you can see the influence in today's films.
Which fictitious character do you most relate to?
A+L:
Capitan Trueno
,
Dr Slump
, Alice in Wonderland…
Tell us one unknown fact about yourselves.
A+L: Work with us - then we'll share those - there're plenty! ;)
Well, you heard them! Fancy working with Paloma? Get in touch!
Watch more of Paloma's work here.